YouTube Staffer Live Tweets Shooting, then gets his Account Hacked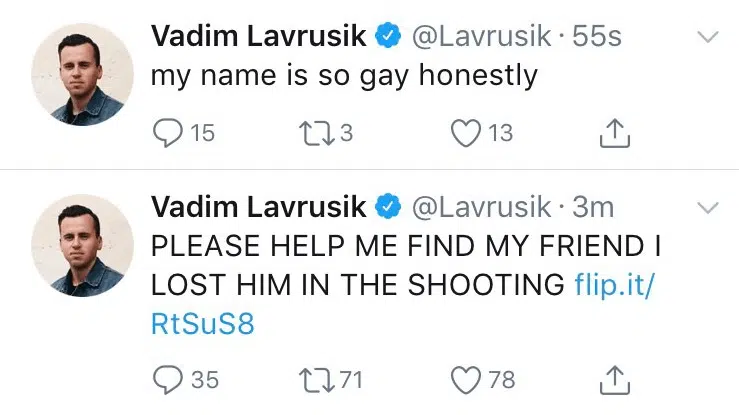 A YouTube staffer was live-tweeting about the active shooting when it happened at the YouTube headquarters earlier today. Shortly after, his Twitter account was briefly hacked.
Earlier today, a woman open fired at the YouTube headquarters and tragically shot 3 people before taking her own life. Vadim Lavrusik, a product manager at YouTube, was live tweeting the incident as it was happening.
Active shooter at YouTube HQ. Heard shots and saw people running while at my desk. Now barricaded inside a room with coworkers.

— Vadim Lavrusik (@Lavrusik) April 3, 2018
Not an hour later, Lavrusik's account was breached by hackers.
At about 2:10 p.m., after Lavrusik tweeted that he was safe and evacuated, a new tweet came up from the account, writing, "PLEASE HELP ME FIND MY FRIEND I LOST HIM IN THE SHOOTING," with a Flipboard URL linking to a photo of KEEMSTAR, a YouTube personality.

Three minutes after that tweet, another post came in saying, "my name is so gay honestly." -CNET
looking like someone hacked vadim's account, per last two tweets pic.twitter.com/Hy66RxAWXj

— ಠ_ಠ (@MikeIsaac) April 3, 2018
Twtter's @Jack was alerted to the issue and promptly restored his account.
Three people have been reported to be injured in the shooting, they have been taken to the hospital.